"FADED" featuring AJ Perdomo of The Dangerous Summer will be available on all streaming platforms February 25th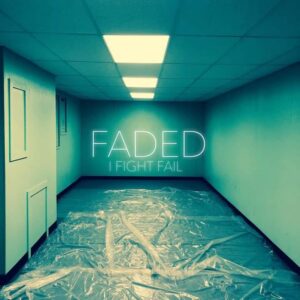 I FIGHT FAIL HAS BEEN ON A MUSICAL EVOLUTION SINCE 2014, A ROCK BAND FROM CANTON, OHIO, SPARKED FROM AN EARLIER COLLABORATION BY VOCALIST ANDY POTTER, DRUMMER ANTHONY CARTER, AND GUITARIST AND DARYL JOHNSON. WRITING AND TOURING, THE BAND DISCOVERED THEIR SOUND IN THE SUMMER OF 2013 AND SHORTLY AFTER THE BAND INDEPENDENTLY RELEASED "MOVE ME" THEIR FIRST EP. THEIR MUSIC AND VISIBILITY CAUGHT THE ATTENTION OF STANDBY RECORDS, WHICH PUT OUT THEIR SECOND EP, "VOYAGES AND VANTAGE POINTS" IN THE FALL OF 2016. IT WAS THAT EP THAT GENERATED BUZZ AMONG TASTEMAKERS AND MUSIC CRITICS ALIKE.
THE BAND HAS BEEN FEATURED IN AN ARRAY OF MAGAZINES–MOST NOTABLY ALTERNATIVE PRESS AND SUBSTREAM MUSIC PRESS.
Band Members
Andy Potter-Vocals/Bass
Daryl Johnson-Guitar/Vocals
Anthony Carter-Drums